When
Palm Beach Lately
was in New York City for
Mercedes-Benz Fashion Week
, we visited
Ivanka Trump's
new flagship store in the trendy SoHo district.  A unique and distinct space unlike we have seen before, it inspired us to chat with the woman behind the brand
and
Palm Beach's sweetheart,
Ivanka Trump
.  Like a true mogul,
Ivanka
graciously and promptly agreed to exclusively share with us her favorite things to do in Palm Beach, as well as a few gorgeous pieces from
Ivanka Trump Fine Jewelry
.  Read on to learn how she balances work and motherhood to an adorable baby girl (follow her on Instagram for cute pics!), who her other favorite designer is and where you can shop for her lovely jewels.  As we already knew, she is the quintessential businesswoman, mom and Palm Beacher after our hearts! 
1. What is the one place you go to every time you visit Palm Beach?
I love visiting The Trump Mar-a-lago Club.
2. Now that you have a daughter, what are your favorite things to do with her on the Island?
As a family, we love to spend time at Mar-a-lago.
It is very peaceful and relaxing, and the views are incredible.
3. Your flagship store is amazing in Soho.  Where can Palm Beachers find your line in town?
Palm Beachers can find my fine jewelry line at Hamilton Jewelers in Palm Beach.
Hamilton's shares my vision of a sophisticated, smart customer who is looking for ageless investment pieces.
4. When you're not wearing your namesake lines, who are your other go-to designers?
I wear a lot of J. Mendell.  I always feel beautiful in his clothes.
5. As an entrepreneur and now a mom, what is one piece of advice you can give women trying to balance it all?
I try to stick to a very strict schedule and I am never late – this is something that I learned from my father, and this knowledge has been extremely helpful in balancing
my duties as a wife, mother, and Executive Vice President of Development and Acquisitions at the Trump Organization.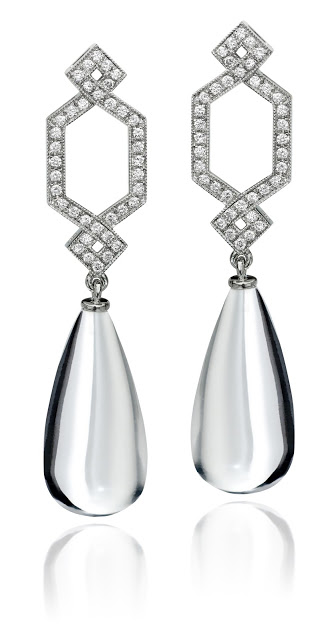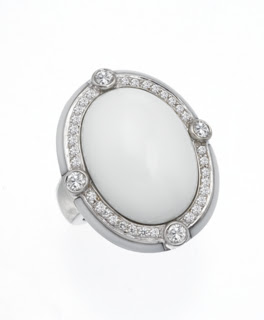 Signature Medium Oval Earrings in 18kt white gold and diamonds, $13,000
Black & White Crossover Earrings in 18kt white gold with rock crystal and diamonds, $1,800
Black & White Crossover Bracelet in 18kt white gold and diamonds, $6,900
Black & White Cabochon Ring in 18kt white gold with white agate and diamonds, $4,800
Rose Gold Necklace in 18kt rose gold with black onyx and diamonds, $4,990