Catherine Milligan
Catherine Milligan is an adorable and artistic sweetheart who works for Lilly Pulitzer, a Palm Beach favorite!  We inspired her to create the drawings of the club, heart, spade and diamond that we featured this week.  Read more about her background, career and inspiration below.
1. What is your role at Lilly Pulitzer?
I'm the Assistant Manager at the Palm Beach Gardens store with a concentration in Visual Merchandising.  I've been lucky enough to travel and help open up new Lilly stores like the Breakers, the store in Charlotte, NC, and the new store in Atlanta.
2. Any artistic training or background?
I've been taking art classes since I could hold a pencil in my hand!  In high school I took AP studio art and AP art history while traveling on the weekends to Fashion Institute of Technology for classes.  I thought I wanted to be a fashion designer but quickly realized I lack the patience to sew couture gowns!  Instead, I decided to pursue a degree in Finance with a Business Administration minor, while taking art history and studio art classes to continue my art training.  I wanted to have a job in fashion that would allow me to use both my creativity and my degrees, so here I am!
3. What inspires you?
Hmmm, everything and everyone!  It's a little cliche but it's true.  It depends on what mood I'm in too, whether I want to paint, draw, merchandise, or refurbish furniture!  Fashion has always played a huge part in my life.  Fashion designers amaze me with their ability to constantly reinvent themselves and push the envelope.  Beyond fashion, I'm semi obsessed with Van Gogh and can always find inspiration in his paintings.  I love anything vintage, especially old movies and music with the Rat Pack crew, Ella Fitzgerald, and of course Audrey Hepburn!  That's why I chose to go to Salve Regina University in Newport, RI.  It was like being in the Great Gatsby movie for four years, surrounded by beautiful architecture and amazing people who inspire you daily.    
4. Where are you from?
New Jersey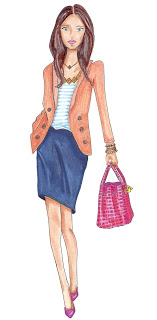 Sketches by Catherine Milligan