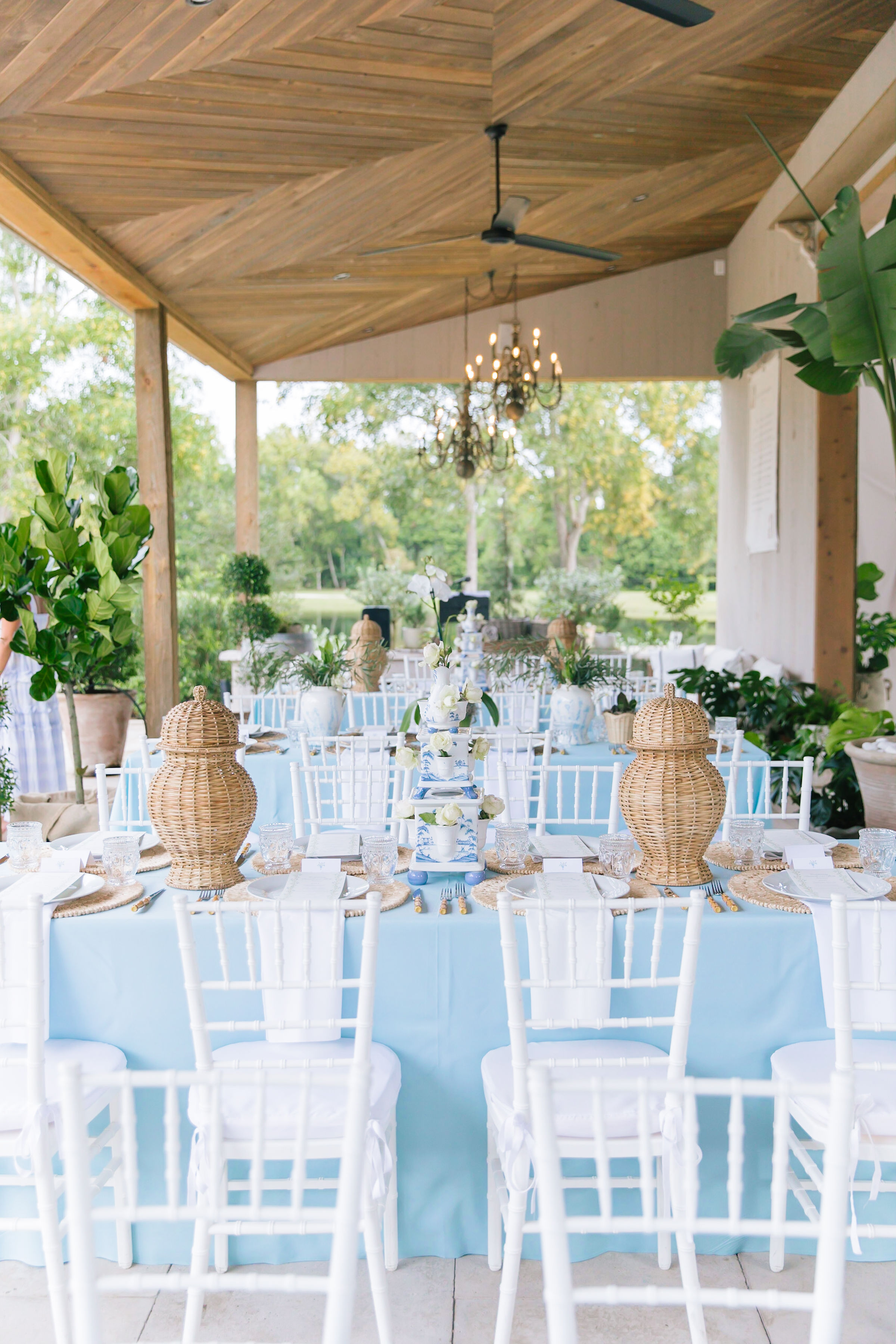 We recently gathered my closest family and friends to celebrate the upcoming arrival of our fourth baby, a little boy. It was a very special day spent with those dear to me at one of our favorite places, White Trail Social & Garden Club. You may recall a few other birthdays and celebrations that we have hosted at this dreamy location this past year <as seen here, here and here>, and it was the perfect location for this day as well. Come along today as we share the beautifully blue tablescapes and other favorite elements from this sweet day!
The gorgeous tables were set with blue linens, white chiavari chairs, raffia placemats, light blue rattan glasses, bamboo utensils, blue bow napkins, chinoiserie menu cards, and place cards. Our friend Nicole from Flower Love Palm Beach created a lovely collection of floral arrangements with cream roses from Grace Rose Farm, orchids and greenery in wicker ginger jars, blue floral ginger jars, blue floral tulipiere towers, and wicker orchid vases.
We also set a little girls' table for my two daughters and a few of their girlfriends with a blue floral linen from one of the owners of Lillou. Lillou also dressed Beth and I with elegant floral dresses from their first collection.  The girls were precious and a delight to have at the party, and it feels like just yesterday that we were celebrating their arrivals. During the celebration, Alexa Bockenhauer sang live music, which was the highlight of the day. Her voice was heavenly and the little girls had a wonderful time joining her to sing a few songs!
One of our favorite caterers, Chef Linda Matyas, made a delicious brunch spread that included an apple, pomegranate, goat cheese, and candied nut salad, mini heart waffles with heart-shaped strawberries, broccoli and cheddar quiche, and crispy bacon. For dessert, our friend Jamie with Southern Belle Cakery created a cake design to match the invitation and used one of my very favorite flavors, pumpkin pie. And for the final touch, I was given a custom champagne bottle with a precious design by the fab Bisous and the Bay!
Credits:
Photography: LCB Style
Location: White Trail Social & Garden Club
Music: Alexa Bockenhauer
Food and beverage: Chef Linda Matyas
Danielle and Beth's dresses and floral linen: c/o Lillou <here and here>
Baby boy sign and place cards: Lovely Little Party
Raffia placemats: c/o Serena & Lily
Light blue rattan glasses: Amanda Lindroth 
Bamboo utensils: Pottery Barn
Blue bow napkins: Julia Amory
Chinoiserie menu cards: Dogwood Hill
Florals: c/o Flower Love Palm Beach
Roses: c/o Grace Rose Farm
Wicker ginger jars: c/o The Enchanted Home
Blue floral ginger jars: c/o Lo Home
Blue floral tulipiere vases: c/o Juliska
Wicker orchid vases: Amanda Lindroth
Cake: c/o Southern Belle Cakery
Custom champagne bottle: c/o Bisous and the Bay