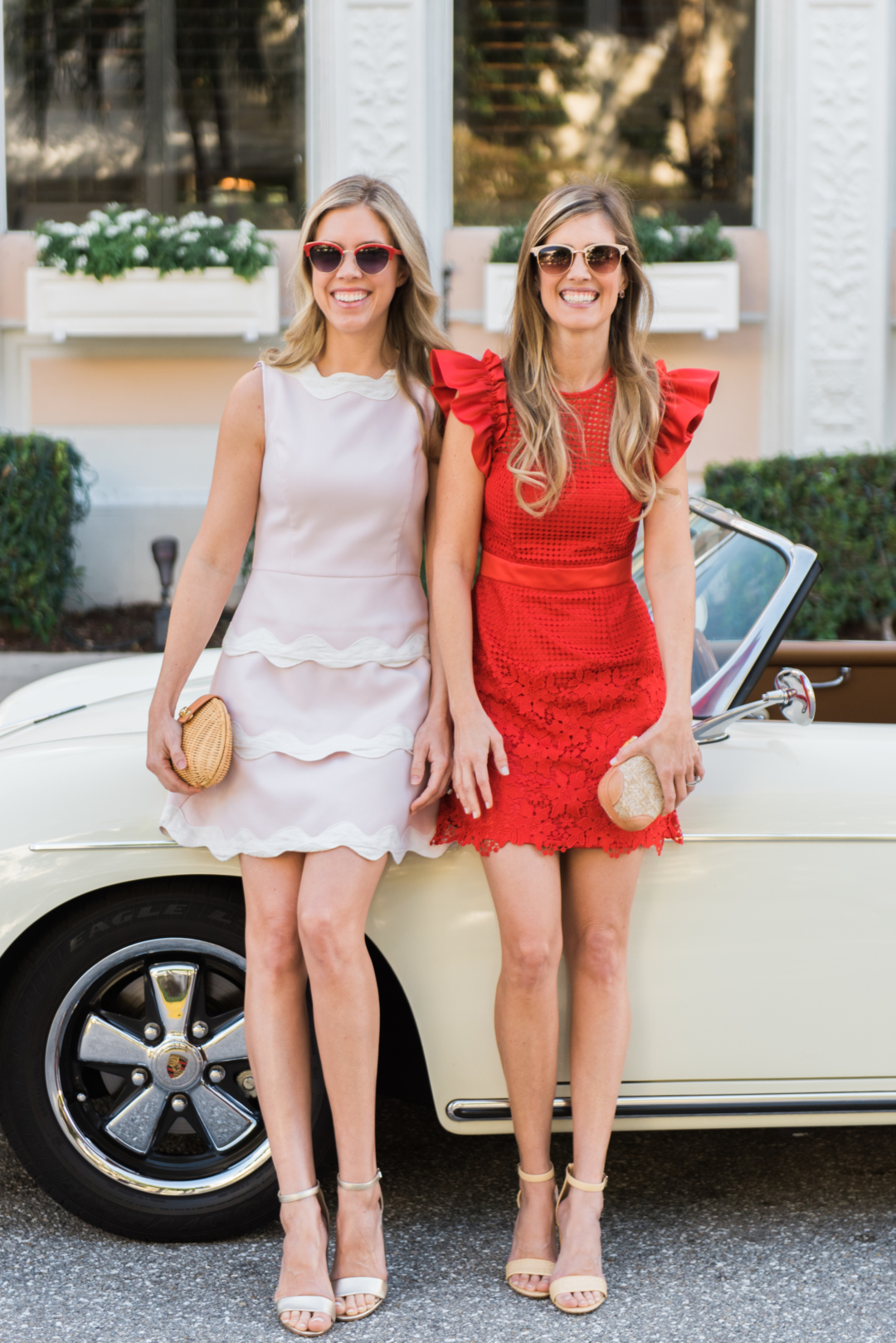 Some people think Valentine's Day is a cheesy holiday, but we never miss a chance to celebrate our loved ones in a special way. From co-hosting a Valentine's playdate for our munchkins to getting dolled up for dates with our hubbies, this Hallmark holiday fills our hearts with love and joy year after year. And today, we are inviting you along as we share some of our favorite Valentine memories, what we love about these blush and red dresses, and this car of our dreams <anyone remember Dylan's black car?!>!
Beth: My husband and I's first Valentine's Day was 10 years ago this year! He was new to the area and we had only been dating for a few months, so he wasn't sure where we should go out to dinner. Someone told him to take me to the Leopard Lounge at The Chesterfield Hotel, so he surprised me with dinner there for our first Valentine's Day. We we were the youngest couple there by far and got a good laugh from it, but it made for a fun night and we can't wait to go back this year to mark 10 years since our first Valentine's Day!
Danielle: It sounds impossible to say, but this is the 18th Valentine's Day my husband and I will have celebrated together! We began dating right before I started college back in 2000, and I will always remember our first Valentine's Day like it was yesterday. Jason took me to a "fancy" steakhouse in Gainesville, FL, and we felt so grown up eating steak and drinking wine on our special date. Over the years, we love to continue this tradition by picking a yummy restaurant to go to just like our first Valentine's date night!
Why we love these looks: Red and blush are our favorite Valentine hues and Rent the Runway has lots of red and blush dresses to choose from in their Valentine's Shop. Beth's red dress is stunning with silky flutter sleeves and a lace fabric that fits like a glove, and my blush dress by Sail to Sable has the most darling scalloped neckline and tiered hemline in ivory. Both dresses are under $100 and look beautiful with a pair of heels and natural bags like this wicker clutch from J.McLaughlin!
Credits:
Photography: Shea Christine
Car: c/o Revvie's Classics
Beth's Red dress: Rent the Runway
Danielle's Blush dress: Rent the Runway
Beth heels: c/o J. McLaughlin
Danielle's heels: c/o Sam Edelman
Clutches: c/o J. McLaughlin
SaveSave
SaveSave
SaveSave
SaveSave
SaveSaveSaveSave
SaveSaveSaveSave
SaveSave