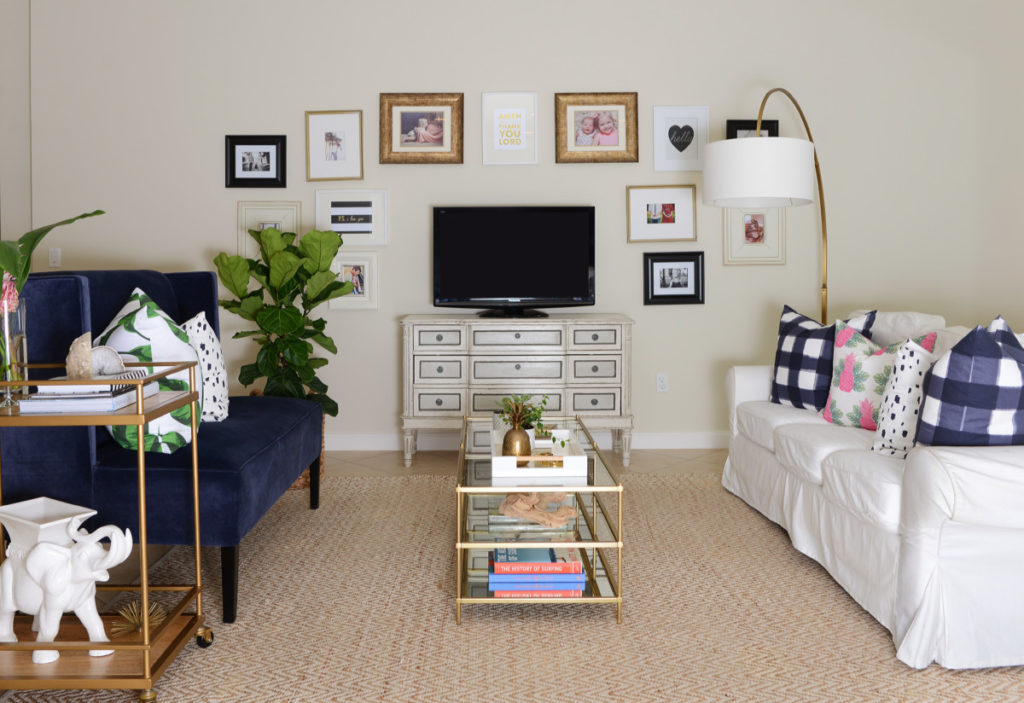 This week, our family had to dust off our sandy summer toes and get in back-to-school mode with new classes, teachers and after-school activities. We went from a slow-paced summer to BOOM… hustle, hustle, hustle. While I have been organizing calendars, forms and supplies for our two school-age munchkins, I have also been taking care of a yummy new baby and getting our home ready for fall. Exhausted? Yes! Excited? YES! If you are like me and are super excited for the upcoming fall season, read on for five easy ways to get your home ready for it!
1. Blue Hues – Black recently had a major moment in the design world, but lately I am craving blue! Blue hues remind me of the ocean and sky, and I'm loving incorporating everything from calming baby blues to rich navy blues, like our new navy blue settee from Tailored by Taylor Burke Home. This bold piece is very versatile, and I love how the navy velvet looks and feels luxurious while still being kid-friendly. It is stunning in our living room, but I can absolutely see it as a focal point in an entryway or pulled up to a wood table for stylish seating in the dining room.
2. Pillows – My two favorite pillow companies are Caitlin Wilson and Katie Kime. I could scoop up all of their pretty pillows, but I especially love CW's navy burnside buffalo check and spotted pillows and KK's banana leaves and spring pineapples pillows. You can play around with different patterns that will definitely freshen up your space!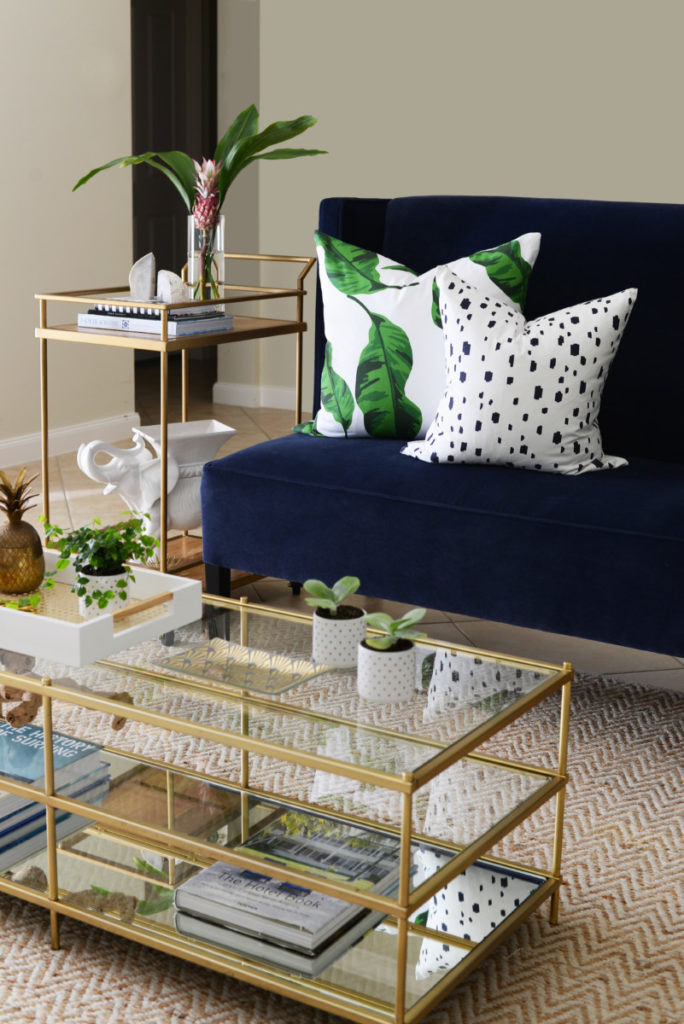 3. Gold accents – I'm still in love with gold accents like this coffee table from West Elm. It's classic and clean looking and can be styled a million different ways! I also love a good gold bar cart that doubles as a side table, as well as brass pineapple decor and this tray.
4. Plants – House plants are so inexpensive and bring much needed outdoor life into your home. I went to our favorite local nursery recently and stocked up on some new indoor plants, like succulents and a fiddle leaf fig. The real deal is so much better than fake ones, so now I just have to remember to water them!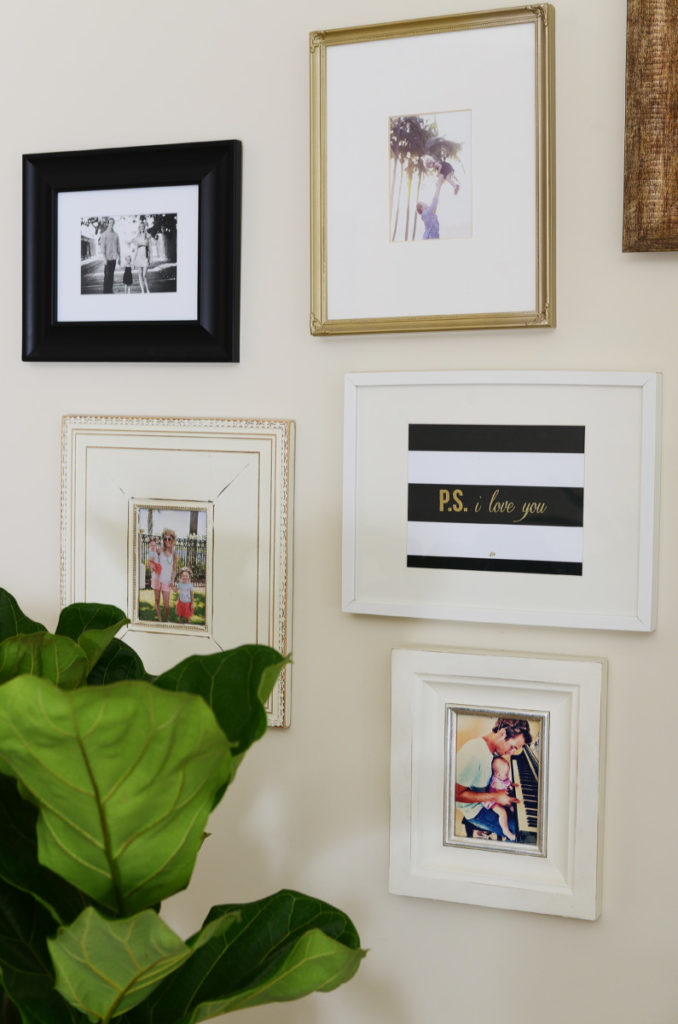 5. Gallery Wall – A gallery wall is a great way to update your family photos and favorite art prints each season. We installed our gallery wall two years ago, and I love it just as much today as I did then! I had a bunch of random picture frames on hand that happened to work well together, so don't be afraid to mix and match. And the best part? We didn't even measure – we just went for it when we hung them and it turned out great!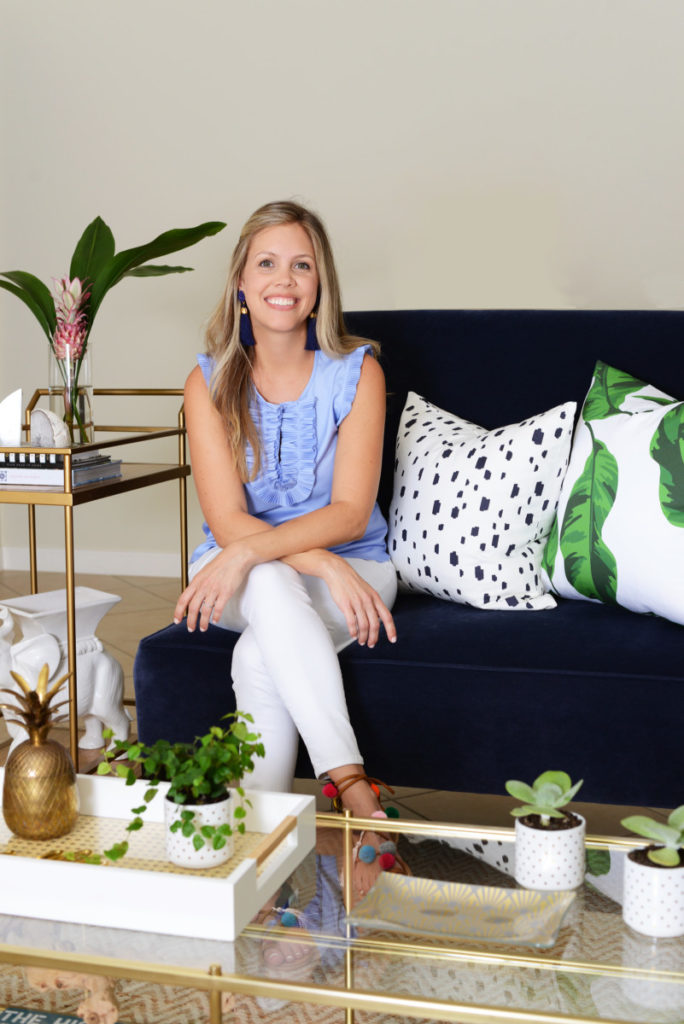 I hope you enjoyed these five easy ways to get your home ready for the fall season! We'd love to see how your home looks lately by sharing your photos on social media and including hashtag #PBLHome!
Credits:
Photography by: South Moon Photo
Navy blue settee: c/o Tailored by Taylor Burke Home
Banana leaf and pineapple pillows: c/o Katie Kime
Buffalo check and spotted pillows: Caitlin Wilson
Gold coffee table: c/o West Elm
Brass pineapple: c/o Fig House Vintage
Blue blouse: J.Crew
Pom Pom Sandals: Goodnight Macaroon
Hair by: AIRBAR
Color and Cut by: Lotus Hair Studio