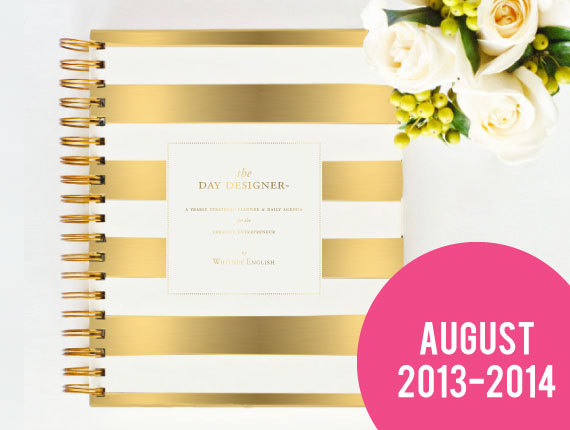 Palm Beach girls are notorious for busy schedules. Between balancing work projects, charity events, lunch dates and social festivities, it can be a juggling act keeping track of everything. That's why we need tried and true planning tools to simplify our lives for us. In this virtually entirely electronic age, it can be tempting to toss out all paper methods and only input our schedules into our phones and computers. But for us, there is something reliable, stable and simple about using a good old fashioned paper planner. We have been on the hunt for the perfect one, and after searching high and low, found our solution with 
Whitney English's Day Designers™
.
Click "read more" below to see why.
On the outside, the shiny gold striped limited edition cover and brass binding had us at hello. We also love that it's been revised and updated for 2014 with new worksheets and modified pages, and is available from August 2013 to August 2014 for anyone needing one right now. On the inside, it is made up of 270 pages and features a yearly calendar overview, a monthly calendar overview, a daily planning page for each day of the week and combined weekend planning pages, and a daily inspirational quote – all printed on luxe weight, ecru paper. The Day Designer™ also focuses on the entrepreneur and offers eight different worksheets, each designed to start with a broad focus and help you narrow down your purpose and passions into key areas that translate into an executable plan.
Click here to learn about Whitney's inspiring story and how the Day Designer™ came about!