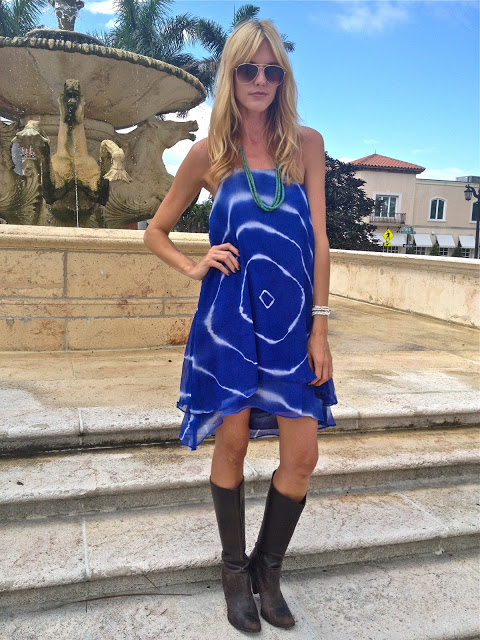 Rae Francis Carson Dress in Navy/White – $304
CC Design 5 Strand Buddha Bracelet – $88
Jen's Pirate Booty Truth Tunic – $253
RJB Gold Bangles – $24/each
CC Design Wood Buddha Necklace – $99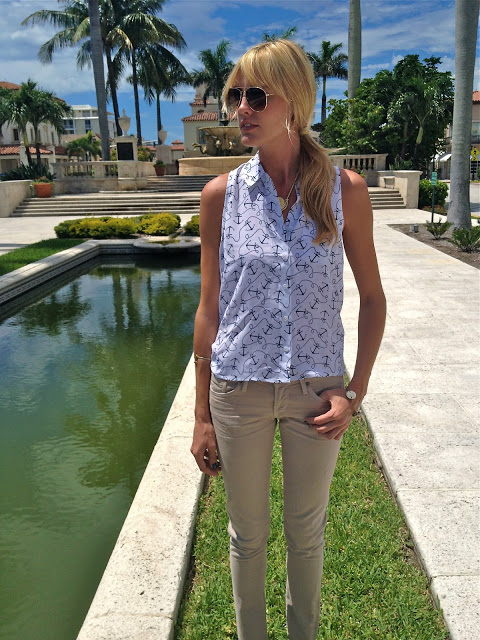 Equipment Mina Sleeveless Anchor Print Blouse – $188
Citizens of Humanity Racer Ultra Skinny Jean in Nomad – $209
Bourbon & Boweties Coin Bangle – $40
RJB Wire Druzy Bracelet – $28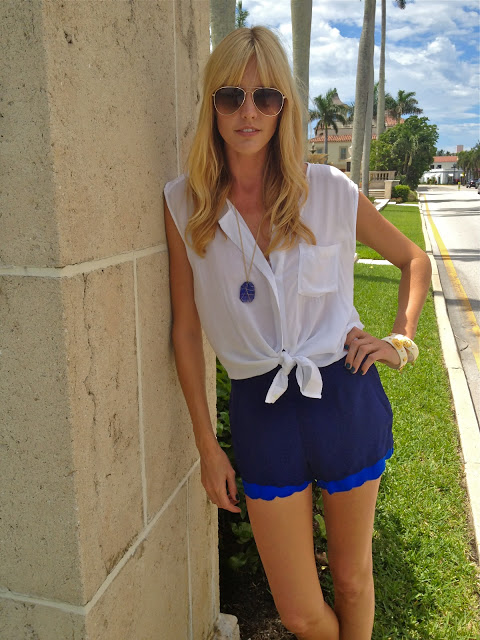 Rae Francis Jace Short in Navy/Royal – $222
James Perse Soft Shell Shirt in White – $166
RJB Wrapped Geode Necklace – $58
Island fashionistas love wearing nautical styles, and nothing says marine better than deep blues, crisp whites and anchors. 
Rapunzel's Closet
 is always on top of the latest trends and newest designers, and we are thrilled to see these looks in their summer kickoff collection. 
Our favorite addition to
Rapunzel's selection of on-trend brands
is 
Rae Francis
, a line created by Palm Beach's own Christina Coniglio and Boston raised Ariel Lilly. A mixture of two personalities and styles that blend together in the perfect way, their creations signify teamwork and the balance between northern and southern style.
For a summer look outside the box, try the boho dresses by Rae Francis and Jen's Pirate Booty with a pair of rugged boots, gold bangles and a wood necklace. For brunch and shopping with the girls, we think Equipment's sleeveless anchor blouse looks great with Bourbon and Boweties coin bracelet and a pair of skinny jeans. And for a tres chic island look, pair the James Perse Shell Shirt in White with the Rae Francis Jace Short in Navy/Royal and a geode necklace. 
Four trendsetting nautical looks – boho, rugged, classic and chic – all for the seaside girl in you! 
Remember: Lil Rapunzel's

 is giving kids in need sweet dreams! Through May 31st, help them collect new or gently used pajamas and books that will be donated to 

Foster & Adoptive Parent's Association of Palm Beach County

. With every donation, you will receive a 

15% discount off your next purchase

! 
To make a donation, swing by the children's boutique (see address below)!
Rapunzel's Closet
Contact: 561.659.5300
Location: 326 South County Road, Palm Beach, FL 33480 
Store Hours: Monday to Saturday from 10 am to 6:30 pm, Sunday from 10 am to 6 pm
Lil Rapunzel's
Contact: 561.659.3131
Location: 251 Royal Poinciana Way, Palm Beach, FL 33480 
Store Hours: Monday to Sunday from 10 am to 6 pm
sponsored post