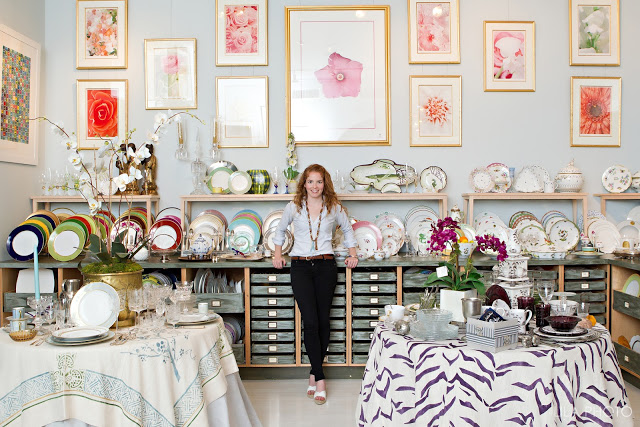 Tara Tobin in Mary Mahoney Palm Beach
Tara Tobin in Mary Mahoney Palm Beach
Photography by LILA PHOTO
We popped into
Mary Mahoney Palm Beach
last week to chat with Tara Tobin, the manager and buyer of the luxury home store on Worth Avenue.  Palm Beachers visit
Mary and Tara
for their extraordinary entertaining pieces and exquisite taste in china, silver, linen and crystal. Tara is a doll to work with and impressed us with her latest tabletop tips.  
1. What is the new trend you are seeing in tabletop design?
Right now crisp blue and white is a trend with pops of color like yellow or red… eg Hermes Bleu d'Ailleurs and Alberto Pinter Potager.
2. What is your "must have" entertaining piece?
There are so many pieces I like to incorporate to a table setting but regardless of formal, casual, in or out I always have flowers…. That isn't necessarily a piece but it really brings a table aesthetically.  I like to add dimension and texture so I am always playing with heights and textures.
3. What is your favorite way to entertain? 
Weather permitting, I love dining al fresco!
4. When you aren't entertaining guests, what is your favorite Palm Beach restaurant to dine?
I'm a big foodie and enjoy many of the local restaurants but when I don't have dinner plans in town I like to drive up to Palm Beach Gardens and go to Christopher's Kitchen.  He is opening a new spot next month next to his current one in Midtown so I'm pretty excited for that.
5. Where do you get your inspiration for your tablescape themes?
I guess it depends on the occasion (if there is one) I will theme around that.  If not I usually start with a menu or a particular food I've been wanting to prepare and then go with a table that would compliment that type of cuisine or that might elevate the look of the plated food… I love so many different china, crystal, silver and linen patterns that it can sometimes be a little dangerous for me to work here, my wish list keeps growing and I'm running out of space at home!
Tara Tobin in Mary Mahoney Palm Beach
Hermes Bleu d'Ailleurs
Alberto Pinto Potager 
Location: 336 Worth Avenue, Palm Beach, FL 33480
Store Hours:  Monday to Saturday from 9:30 am to 5:30 pm